What creates a durable nonstick surface with the best release for cooking and baking?
Until now, the industry has relied on the application of spray coatings in the manufacture of nonstick cookware & bakeware.
PTFE and ceramic spray coatings cannot be applied evenly or with heavy deposition which limits nonstick functionality and durability.
Althought the surface of most pans and trays look smooth to the naked eye, a closer look reveals the true profile of spray coatings as anything but smooth.


Silkway Nonstick film lamination is 2-3X thicker than conventional nonstick spray coatings。
Why we're different: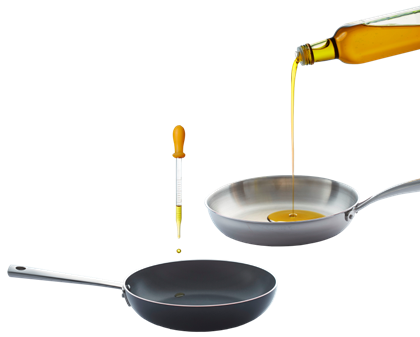 Patented nonstick PTFE film lamination technology provides a more even & durable surface than PTFE and ceramic spray coatings。

The super smooth, even film coating resists surface micro-pinholes which can reduce nonstick properties.

Superior food release means little or no oil is needed resulting in healthier cooking。
Silkway Fry Pans with stainless steel handles are oven safe up to 500°F (260 °C)

Pan size - 10.24" diameter (26 cm)

Patent #10-2015-0030719
Click here for imporant use and care instructions